Celebaby: The Reasoning Behind Olive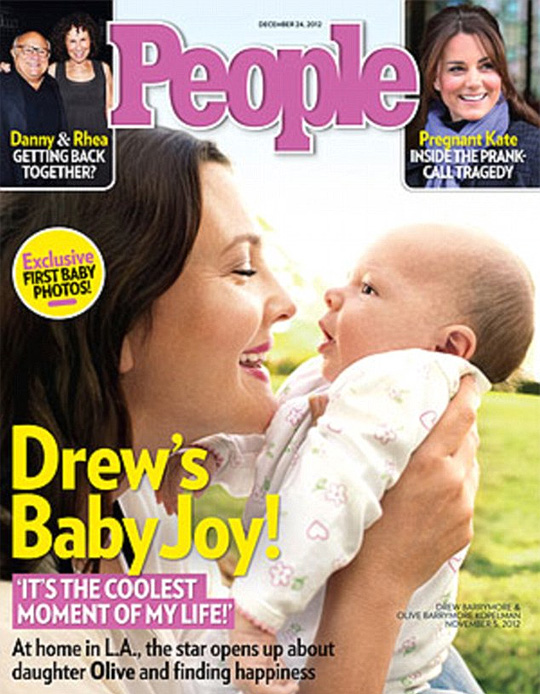 Drew Barrymore didn't utter one word of pregnancy confirmation during the entire time she was up the duff, but now her little daughter is here she's more than happy to spill some of the beans; hurrah, because I rather like her.
She's recently been on the Ellen DeGeneres show (my husband loves watching Ellen, although he can't stand the screaming though!) and explained the reasoning behind calling her daughter, Olive:
"I never would have guessed that would have been the name. But I was reading a [baby name] book with my husband, I was three months pregnant and they said your baby is the size of an olive, and that was it. We never looked back!"
Good job she didn't look at baby name books earlier like I did - before we knew that Edward was a boy, he was nicknamed 'Peanut' because that was the size he was at the first scan; he's not called Peanut now, we call him Bear/Edward Bear/Bear Cub...the list actually goes on and on with various Bear variations!
Drew has also spoken about how nervous she was bringing Olive home (I remember that feeling very well too!):
"I couldn't eat or sleep for two weeks, I was just so nervous! You have the highest highs and yet you're facing the biggest fear of, "How do I keep someone alive?""
She's also had nothing but gushy things to say about her new husband - they got married three months before Olive was born: "I really wanted a wonderful traditional home for my kid. Will comes from a strong family, he provides a strong family ... It just makes me so emotional because it's like a miracle."
And on Olive's, and any future children's, career choices...
"I love the idea that they don't have to do something that they have no interest in, that they can do something completely opposite if they want to.  I will be so surprised if they don't want to do something involving food or wine or art, but I'll be OK with it. I just want to build fun, great things for my family."
BLIMEY! Is all I can say - from not a word about her private life to LOADS, and a magazine cover too.  I wouldn't have put money on it!