Celebaby: Two For the Price Of One Mariah?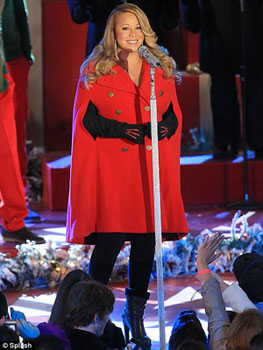 Just when we thought the rumours surrounding Mariah and her pregnancy were over - a new twist to the Mariah maternity story has emerged!
Could she be expecting TWINS?!
With the preggars rumours flying around for months and months it feels like she's been up the duff for years, and now this little rumour will run and run until Mariah either confirms or denies it.
Of course she may do neither and will just tell anyone who asks, that they'll have to wait and see.
It's all come from a, seemingly, throw-away comment she made during an interview with Radio Disney...
"...I just hope they don't turn out hating Christmas!" she said, when she revealed that she found out she was expecting when she started to record her Christmas album.
The other BIG area of speculation surrounding 'The Mariah Pregnancy' is the due date.
This is being v e r y firmly kept under wraps, as was her baby bump during a recent performance at the Rockerfeller Centre in New York (mind you, you can't blame her, it's a tad chilly in New York at the moment!).
Mariah is a self-confessed Christmas fanatic - could we see an Christmas Day induction perhaps...?  Or would that be taking things a little too far?