Celebaby: Pregnant Pink & Another Girl For Myleene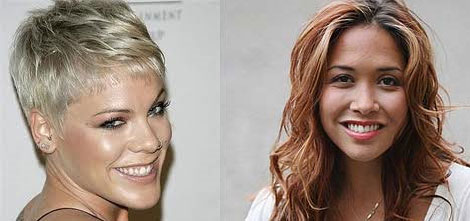 There's talk going around that Pink is expecting her first child and Myleene takes to Twitter to announce she's having another girl.
Pregnant Pink
A report in US weekly would seem to suggest that Pink - real name Alicia Beth Moore - and her hubby, Carey Hart, are expecting thier first child.
One of those good old 'sources' has spilled the alleged beans, telling, "She's 12 weeks along. She wanted to do it between tours, when she has some time off."
Pink and Carey Hart got back together last year after a 12 month separation, so the 'source' also added, "Pink was determined to make the relationship solid. Now she's really happy, and she's excited she got pregnant so fast! She'll be a brilliant mother."
A similar claim was made in April; it was vehemently denied and led to Pink tweeting this...
"Off to the gym. Lord knows when this 600-lb baby comes out that I've been growing for 8 years, i better be strong and physically prepared!!!"
"I wanted a RABBIT!"
This was three-year-old Ava Klass' reaction when mum, Myleene Klass, told her she would be having a baby sister and it's amusing me greatly!
Myleene went for a 20-week scan to discover the sex of baby number two and then, in true celeb' style, took to Twitter to reveal that she and her partner Graham Quinn are having a girl.
"Absolutely ecstatic. A little girl is joining our family. Feel extremely blessed."
She then 'fessed that confessed Ava was less than impressed with the news
"Ava's reaction when the Dr told her, priceless: 'I already told you, I want a rabbit'."
I know it's wrong, but I'm rather hoping it was accompanied with a foot-stamping, arm-folding and shouting tantrum of epic proportions.
I think Ava is a stunning name, so I'm dying to know what this new little girly is going to be called; I'm sure Twitter will be the first to break the new!