Celebaby: First Pictures Of Teddy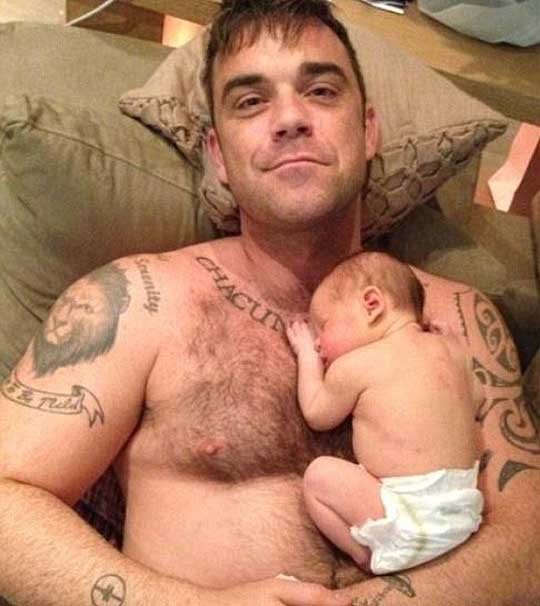 Thursday's Celebaby was all about the arrival of Robbie Williams' daughter, Theodora; today's Celebaby brings you the first picture of father and daughter together, along with Robbie's thoughts as to the sort of girl he wants her to grow up to be.
If you follow Robbie on Twitter you'll have already seen the picture above; it was taken when Theodora was just two days old (she was born on Tuesday) and doesn't she look peaceful sleeping on her, very obviously, proud as punch father?
Last week Robbie spoke about his wishes for his daughter and the sort of person he'd like her to be...
"All I want her to have is manners. To say, "Yes please" and "thank you", and to be kind.  Those are the things I want her to be and if she's those things then she can get away with murder with me.
"I can't help thinking ... her mum's a comedian and actress and her dad is me. I just want a really quirky, kind kid. As long as she's kind and has got good manners then we're cool."
Well, basic manners are easy to teach and reinforce if you live them yourself, and as for being 'quirky' - with Robbie and Ayda as parents, I rather think she probably will be.  Can you imagine Robbie Williams having a daughter a'la Saffy from Absolutely Fabulous?  No, neither can I!