Celebaby: Myleene Has A Little Hero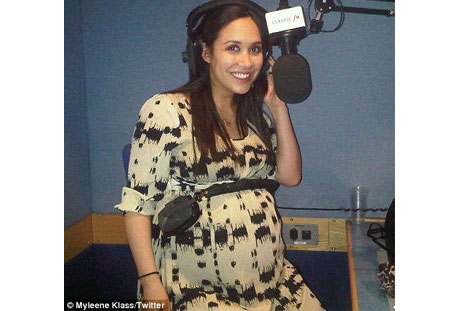 Myleene Klass gave birth to her baby daughter late on Friday afternoon and, despite all of my Myleene 'bashing', I'm thrilled that another celebrity baby has made it safely into the world.
Her name is Hero Harper Quinn and she weighed in at 6lbs 2ozs; the official statement on Myleene's website read:
This afternoon at 5.02pm Myleene gave birth to Hero Harper Quinn. Weighing 6lb and 2oz, Hero is Myleene's second daughter.
Myleene worked right up to the last minute and pre-recorded her Thursday evening show that she presents on Classic FM (I listen to that), she tweeted en route to work,
"Sitting on the tube munching on a pack of Rolos. This is the life... A timely arrival would surely flummox them (London Underground."
I'd like to know how she managed to tweet from the Underground, I lose ALL signal when I'm on the tube; maybe it's the Rolos that provide the magic.
Myleene's pregnancy seems to have been plain sailing, in the grand scheme of things, but once the 'deed was done' she revealed that it had taken 18 months for her to fall preggars.
"Ava was a surprise so I assumed it would be easy, but it wasn't. It's been tough. You get to the stage where every month you're waiting, and then when you're not pregnant, it's so disappointing.

"I was panicking a bit. The doctors started talking about IVF and I was upset. You think, "This is serious, what if it doesn't happen?"'
But happen it did and Ava now has a younger sister, cue numerous Myleene tweets about hilarious sibling antics in the not too distant future!