Celebaby: Six Months For Stevens & Sickness for Lily
In today's celebaby we take a look at how Rachel Stevens is coming along with her first pregancy and Lily Allen's morning sickness.
Six Months Gone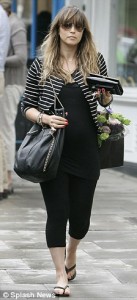 Is it just me or do other people's pregnancies always go SUPER fast?!
It only feels like a couple of weeks ago that we were talking about the big announcement of her impending motherhood, and now all of a sudden she's six months gone and still looking fantastic.
I wish I knew how people do that - I just looked shocking from start to finish. And I can pretty much guarantee that she'll looke super-fantastic straight afterwards too.
Rachel's been keeping a pretty low profile, in the grand scheme of things, and was snapped out and about running errands in London this week. She has always openly admitted that she's wanted children for a very long time.
I've always known that I wanted children. I love children and I feel really calm around babies.
Rachel has also revealed that she has cravings for pizza and Big Macs!
I love margarita pizza at the moment. I also crave Big Macs - I hadn't eaten McDonald's for about ten years but every time I pass a McDonald's sign my mouth starts watering.
I really hope that motherhood lives up to all her expectations, even the times where you are that tired you can't even remember your own name or what on earth you are meant to be doing from one minute to the next. She seems so lovely, it would break my heart to think of her beng disillusioned.
Sick Lily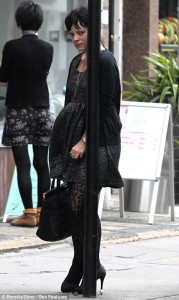 Don't mention pizza or Big Macs if you happen to bump into Lily Allen though, ok?
The poor girl is suffering with hideous morning sickness and I'm sending her a ton of sympathy. The only way I can describe morning sickness is this: you're on a boat in rough weather and you feel like you're going to throw up at any second.
You don't know whether to lie down or go and hang your head over the side; you wonder whether eating something might help and it does..for about 20 minutes and then you're back to feeling queasy.
The thing is, if you're on a boat then you have a pretty good idea when the journey is going to end and that you'll feel better when you get off. With morning sickness (which isn't just confined to the mornings by the way) you can't get off! You have no idea how long it's going to last for and there have been occasions where I thought I couldn't stand another day of feeling that way, regardless of the reason why and the little bundle of joy that would arrive at the end.
She's been tweeting about how she's been feeling this week, on Tuesday she said...
Sorry, I am being grumpy today. Morning sickness, toothache, tiredness and gossip commentators trying to stir up s**t don't mix very well.
And on Wednesday...
Car sick, morning sick, sick sick sick sick
I hope the media are going to go a little easy on Lily if she's a little less friendly than usual for a while; feel better soon Lily!