Celebaby: Miranda Kerr - "I Thought I Was Going To Die!"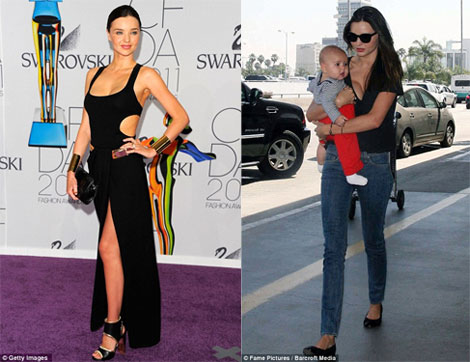 There are two main kinds of birth story - the ones that proclaim it's not as bad as you think it's going to be, and the ones that speak of hell, agony and torture.
Miranda Kerr's birth story falls into the latter category; if you're preggars at the moment you might want to skip this story.
Go on, off you go; go and make a cup of tea, grab a couple of biscuits and put your feet up for a few minutes.  It's not as bad as you think it's going to be I promise, I've got three children so it can't be THAT terrible.
"I thought I was going to die!"
That's what Miranda Kerr has recently said about giving birth to Flynn; up until now all she's said about her labour and his birth was that it was long and difficult.
"I actually thought I was going to die at one point and left my body. I kept thinking, "how do women do this?" But if other women have done this, I can do it too. I was determined."
Mind you, weighing in at 9lbs 9ozs (4.5kgs in new money) Flynn wasn't a small baby so you can't blame her for feeling it just a little bit.
When you're a model with your body being your main source of income, you'd be forgiven for thinking that putting it through the rigours of pregnancy would be a bit like trying to commit career suicide.
What if all the 'magic' anti-stretchmark creams don't work? What if you DON'T go back to being the same shape you were before?!
Flynn is a big baby and I thought to myself, "I have so much more that I want to do aside from modelling. I can live with my body not being in shape if I have a healthy son. It's worth it!"
She sounds quite normal and down to earth doesn't she; I wonder if having pinged back into her pre-pregnancy model self within half an hour helps that statement trip off the lips so easily?