Celebaby: Mariah's Easter Egg Bump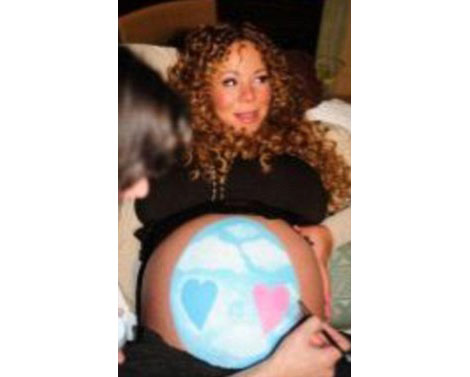 Tell me it doesn't feel that Mariah Carey's been pregnant forEVER!
I'm sure she's having the longest pregnancy in history and if her latest tweet is anything to go by, she's also had enough now.
To celebrate Easter Mariah had a huge Easter egg design painted on her equally HUGE twin baby bump, along with the picture (posted on Twitter) she had this to say...
"HAPPY EASTER! Ummm.. READY!!!!!!!!!!!! Done and done!"
The babies are due in just a few days and Mariah has said that she's ready to be a mummy.
"Being a mother is probably the hardest job in the world. I feel like, in a lot of ways, children come into the world to teach us.  It's going to be a delicate balance between raising them around glitz and glamour and keeping them grounded.
One thing I'm sure of is that I'll be grateful for the twins every day, no matter what."
Usually I'd be fed up with all the Mariah twins news and build up but you know what? It's far more interesting than all the Royal Wedding hoohah and I'm secretly hoping the babies will arrive on Friday 29th so I can read about something other than William and Kate!