Celebaby: Mariah On Keeping Mum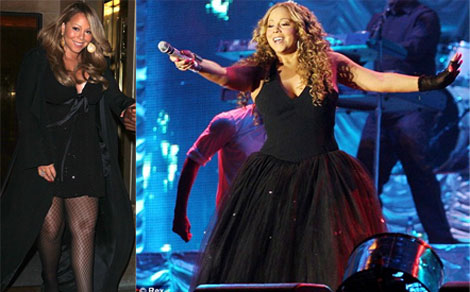 I've been keeping an sharp look out for any baby news from the Mariah Carey camp and HURRAH! At LONG last she's decided to stop keeping mum about the whole pregnancy thing.
It's been getting rather tedious, I must confess, reading endless teasing quotes and dropped hints here and there - but there has been a good reason for it.
Mariah suffered a miscarriage back in 2008 and both her and hubby, Nick Cannon, were left devestated...naturally.
"Literally, the day we were supposed to travel to Aspen we had an ultrasound," Nick said, "'unfortunately that was the time when the doctor said, "I'm sorry but the pregnancy is unsuccessful"
The couple flew to Aspen anyway and put a brave face in front of friends and family despite having just received such heartbreaking news.
Recalling that time, Mariah says the tragic news brought her and her husband closer together, "It was really sad. We had really to absorb this... We really learned a lot just as people. It kind of shook us both and took us to a place that was really dark and difficult."
Mariah also revealed that she's exhausted and suffering with morning sickness - urgh, she has my sympathy with that, morning sickess is just hideous! - but is VERY excited at the prospect of being a mummy.
However, some things are still being kept under wraps - the due date! Mariah won't be drawn on revealing when that is, saying it's still early.
But with Mariah you never can tell - what's 'early' in Mariah Carey land?
Not being one to readily dish the dirt, the next thing we'll know is the baby will have arrived and be three months old already! Either way, the rumour mill has finally been able to breathe a huge sigh of relief and gone off for a much needed Carey coffee break!