Celebaby: Madonna Gets Cheeky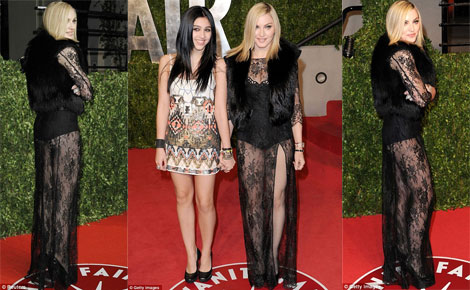 I know Madonna looks great in the airbrushed, plastered with makeup photographs that we all see in the papers and magazines, and it's great that she's keeping in shape BUT...does she REALLY have to keep romping around in leotards that are best left where they belong, like back in the 80s or on very young Prima ballerinas!
Madonna and her daughter, Lourdes, were out on the red carpet at the Vanity Fair party last night; Madonna wearing a bit of black lace, black fishnet tights, a leotard and a pair of high heels whilst Lourdes looked positively covered up in her white, patterned strappy dress.
By all accounts she was heard to plead, "Mum!  Do you have to?!" everytime Madonna posed her butt cheeks for the delighted press snappers in attendance.
Last year the mother and daughter pair launched their own fashion range together - Material Girl (perhaps they ran out of material for Madonna's party outfit...) - and speaking to Access Hollywood recently, Lourdes said...
"(My mom) does actually (borrow my clothes). I go into her closet - I'm not supposed to take things without asking, but she's always taking things without asking.
I mean, she gets mad at me when I take things without asking her, but... she has such amazing like clothes, so it's like kind of annoying sometimes... She wears my shoes a lot and she wears my accessories."
I don't think 14-year-old Lourdes will be borrowing the 'Black Lace' outfit anytime soon (and now I've got Agadoo going round and round in my head, thanks Madonna!)