Celebaby: Another Klassy Cardigan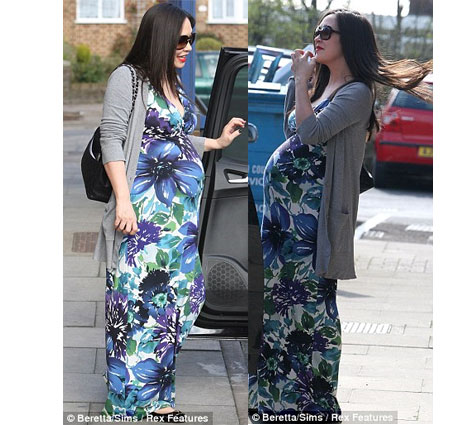 NOT!
I really hope that when Myleene Klass isn't pregnant anymore she ditches the hideous cardigans which she keeps teaming up with perfectly nice dresses.
The floral dress she was snapped in is rather a bold and marvellous statement completely wrecked with a hideous oversized grey piece of naff knitwear!
She's due to 'pop' this week and took her little daughter, Ava, to the see the X Factor Dance Show tour thingy (y'know, where all the failed wannabees get to prance around on stage for just a little while longer before they're thrown back into obscurity) in the hope that it might kick start labour.
And in true Myleene style she just had to tweet about it...
"Thought the thumping bass would kick start labour. Nada. Ava loving "the girl with the red hair", Cher."
Myleene's hubby, Graham Quinn, has also got in on the Twitter act and posting this on his page...
"'All is good here new baby be here very soon xx."
Apparently Ava's now looking forward to having a new sibling, having said that she wanted a rabbit instead when the news was first broken to her, and has been saying goodnight and good morning to the baby through Myleene's belly button.
Watch this space for news of the latest addition to the Klass clan!