Celebaby: From Keeping It Real to Unreal!
In this edition of Celebaby, Jill Scott clearly has her feet firmly on the ground and keeps it real and is the Brangelina Adoption Agency Inc. back in action and on the prowl again?
Jill Scott Tells It Like It Is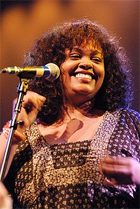 Just when I thought I couldn't like Jill Scott of No.1 Ladies Detective Agency fame - not to mention American soul and R&B singer AND poet (I reckon she could solve world peace too in her spare time) -  any more than I do already, she goes public with this frank confession on first-time motherhood,
"I'm going to keep it real gully with you, the first two months I wanted to give him back.  I expected someone to come and save me because after you have the baby, nobody cares about you anymore, nobody cares if you sleep, nobody cares if you eat. It's just you and this all-consuming thingy!"
And she's right!  First-time motherhood is one HUGE culture shock unless you are a born mother-earth type which, let's face it, most of us are not; whilst you are struggling to remember what your name is and where you come from, everyone else looks so composed, calm and capable and it can leave you feeling inadequate, demoralised and downright desperate.
Give that woman a standing ovation for 'keeping it real' and telling it like it is!  By the way, Jill doesn't want to give her son, Jet, back anymore - it all worked out ok in the end, hurrah!
From keeping it real to UNREAL!
I know that celebs do a lot of excellent work for charity and we love them for it, but this whole 'adopt a poor and needy child from Africa, Mozambique, Timbuktu, the far reaches of the outer galaxy (you know they would if they could!) is really beginning to leave an unpleasant taste in the mouth.
Angelina Jolie spent time in Port-au-Prince with her Unicef Amabassadors hat on this week and the Brangelina Adoption Agency Inc. are now reportedly in the market for another victim, sorry, I mean child to add to their collection, SORRY! I mean 'family'.

This time it could be a 'lucky' earthquake orphan from Haiti who gets to be hand-plucked from the chaos of their home country and flung into the chaos of the Brad-Ang (and let's not forget Jen in all this) media storm.
To their credit brand 'Brange', supposedly earning a mere $55 million last year, have given $1 million to the Doctors without Borders charity but I have to wonder, why not help MORE children this way and focus on the six children they already have, rather than choosing another one?  If you really have to have a new family addition...get a puppy.  Actually, no, don't do that either.