Celebaby: Jay-Z Speaks Out About Beyonce Pregnancy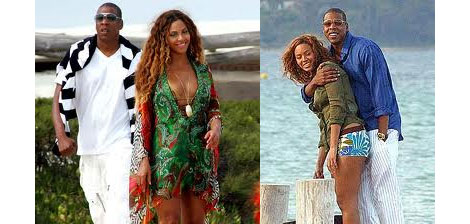 The rumour mill is still in over drive about Beyoncé's supposedly being preggars. So much so that, the normally tight-lipped Mr Beyonce - JayZ, has spoken out.
He didn't say much, but what he did say made me chuckle; you can just feel the 'it's all so very tedious' tone to his voice.
Here's what he had to say, on the Howard Stern show, about the fact that his wife is most definitely NOT up the duff.
"I really sit back and wonder when people are going to stop. The day that Beyoncé is pregnant, I don't think Newsday is going to know before my grandmother."
Can you imagine it...
"Darling, do you think we should visit your grandmother and tell her?"
"Nah, it's ok, she'll find out through Newsday."
He also went on to say, "Everyone knows I'm married, I just don't discuss it because it's a part of my life that I'd rather keep private."
Both he and Beyoncé have always had a policy of not discussing their relationship or private lives...apart from with his grandmother of course!