Celebaby: Jada Pinkett-Smith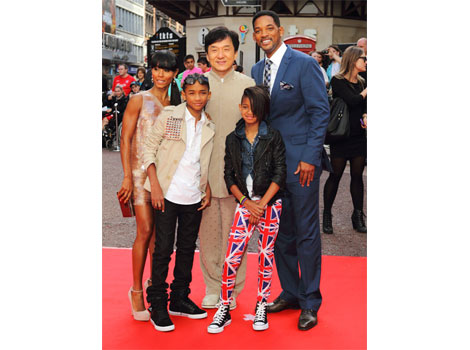 Whilst we wait for the rush of babies due to be born next month here's what Jada-Pinkett Smith had to say about giving up her career for her kids.
Jada-Pinkett Smith
She's married to Will Smith, she's an actress and singer in her own right and her under thirteen-year-old children are also music and movie stars in their own right; something had to give and Jada has spoken about how she chose to make that 'give' her own career.
"It was excruciating, completely excruciating," Jada told Redbook magazine recently, "When Jaden was auditioning for The Pursuit of Happyness, my band had just gotten an offer to open for Guns N' Roses in Europe.
For me, that was unbelievable. But the choice was: I could be a rock star, or I could be on the set with my son to make sure he was healthy and happy. We all know how that story ended!"
I wonder if having millions of dollars in the bank makes that decision easier...?
Or maybe it makes it harder, because the temptation could be to try and do it all - be in one place doing your thing and zip backwards and forwards by plane as many times as you can.
I don't know.
I do think, however, that having two parents who came from tough neighbourhoods when they were growing up makes them pretty likely to be kept well grounded despite living in the Hollywood bubble of madness.
"Let me tell you what I fear most: Them growing up like I did, in a house with drugs in a war zone, where if I walked out my door I could be shot. Hollywood ain't nothing compared to that! Growing up in the streets of Baltimore, or the streets of Philly where Will grew up — I'd rather have my kids here.
It still makes me nervous that they're part of something that isn't totally real, but it's up to Will and me to teach them what's real and what's not."
Would you, HAVE you given up your career for your kids?