Celebaby: Jackman On Adoption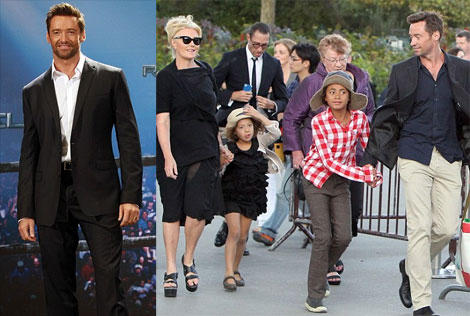 Hugh Jackman is one of those men who just get more smouldering and better looking with age.  I watched X-Men Origins: Wolverine with my daughter on Sunday night and we both agreed that Mr Jackman is rather easy on the eye, in a rugged and manly way.
We've featured Hugh Jackman and his delicious daughter, Ava, on PlayPennies before - she's got to be one of the cutest little celebabies ever - and I had no idea, until today, that she was adopted!
Hugh and his wife, Deborra, also have an adopted son - 11 year-old Oscar - and Hugh has recently revealed what it was like when they found out they'd never have children of their own and how he views his children.
"It was painful. It's not easy. You put a lot of time and effort into it, so it's emotional. I think any parent can relate - trying to have children is wonderful and when you feel as though that's not going to happen, there's a certain anxiety that goes with it.
From the moment we started the adoption process, all the anxiety went away. I don't think of them as adopted - they're our children.
Deb and I are believers in I suppose you could call it destiny. We feel things happened the way they are meant to. Obviously, biologically wasn't the way we were meant to have children.
Now, as we go through life together, sure there are challenges, but everyone's in the right place with the right people. It sounds airy-fairy, but it's something we feel very deeply."
I'm liking Hugh more and more; fabulous actor, great dad!