Celebaby: Harper, Harry and Bingham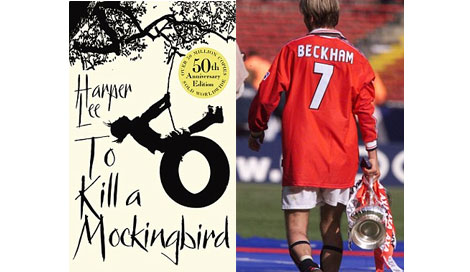 It doesn't matter whether you're a celebrity or a regular Joe, or Jo-Ann, the answer to the question everyone wants to know is the baby's name.
With celebs often having a bit of a penchant for the weird, wonderful and downright whacky it sometimes leaves us more sensible mortals wondering what on earth they were thinking.
Harper Seven Beckham
David Beckham has spoken out this week about his new daughter's name - Harper.
Earlier in the week it was reported that she was named by the boys, after their favourite character from TV show 'Wizards of Waverly Place.'
David has dismissed this and revealed the truth in a series of videos posted on his Facebook page.
"A lot of thought goes into our children's names and Harper was a name that we've loved for a long time for a couple of reasons."
"One reason is Harper's an old English name which we loved and one of the other reasons was Victoria's favourite book is To Kill A Mockingbird and the author was Harper Lee. It's a very strong, passionate book. That's where Harper came from."
Harry James O'Hara
Now this is lovely and sensible - Harry James are the names which Danielle Lloyd and Jamie O'Hara have given to their new baby boy who arrived 10 weeks early, on Wednesday.
He's been moved to a special Neonatal hospital 60 minutes away from where they live and yesterday Danielle tweeted to say they were going to see him and hoped they'd be able to cuddle him.
I just cannot imagine what that must be like - to have had your baby but not have been able to hold him, or her, in your arms; heartbreaking.
Danielle's spokesperson has given more details about young Harry's condition.
"The baby is currently on a Positive Pressure Ventilator to assist with his breathing but the doctors are very positive and Jamie and Danielle are very thankful to the medical team for all that they are doing."
Bingham Hawn Bellamy
This is the name of Kate Hudson and Matt Bellamy's new baby boy, who arrived last weekend.
You always know that the name you've chosen isn't run-of-the-mill when you have to explain it, which Matt did...via his Twitter account.
"So happy! Just had a baby boy, Bingham 'Bing' Hawn Bellamy. Mum and baby are strong and healthy and Mum was a warrior, Bing popped out after 4.5 hours of intense pushing!"
Then he added, "For those wondering, Bingham is my mum's maiden name.'Bing Russell' was also Kurt [Russell's] dad. Family connections all around!"
So now you know!
Next on the strange name watch list is Mel 'Scary Spice' B - she's due this month and with a daughter called Phoenix Chi, we can only begin to guess what this new baby will be called!