Celebaby: Harper Beckham's kisses for Daddy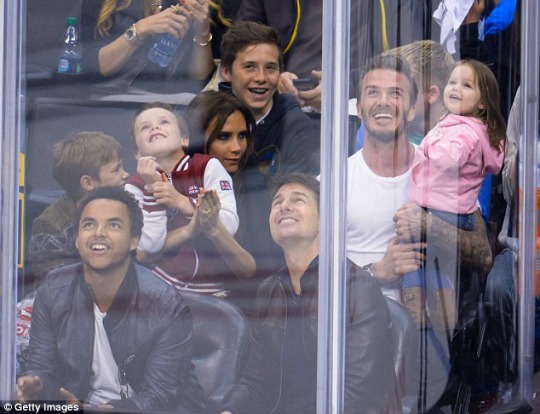 Ok this is adorable.
The Beckham family were out in force at the Staples Center in Los Angeles earlier this week, watching the NHL playoffs.
During the game the infamous 'Kiss Cam' scanned the crowd, looking for couples who might be prepared to pucker up. The Kiss Cam is a Stateside tradition during big sporting events, and the lucky pair picked out by the camera are supposed to smooch for the delight of the crowd, who are watching on the giant screens dotted around the arena.
You've probably seen the cheesy pics of Mr & Mrs Beckham smooching for the Kiss Cam before now, and even President Obama has managed a little romantic moment with his wife Michelle for the benefit of the cameras.
But guess who the Kiss Cam singled out this time?
None other than Golden Balls himself, whose little girl happened to be in his arms at the time. David drew Harper's attention to the big screen and she promptly grinned from ear to ear at the sight of herself, before swooping in to plant a giant smacker on her Daddy's cheek.
The whole family seemed to find it a hoot, and Tom Cruise and son Connor - who just happened to be sitting in front of the Beckham clan - couldn't stop smiling at the cuteness of the moment either.
But you'll never believe this bit. Victoria Beckham almost cracked a smile, too!