Celebaby: Halle Berry Barefoot In The Park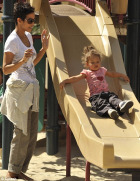 It's heartwarming, isn't it, to see an A-lister just hanging out with her mini-me?
The Daily Mail ran a story today about Hollywood goddess Halle Berry going all barefoot-in-the-park with her little girl, Nahla, who turns two later this month.
With the Oscars happening in Tinseltown this weekend, I wonder if Halle is feeling especially chilled. According to the Mail, Halle said this in a recent interview with Oprah Winfrey:
"When I won an Academy Award I remember feeling this enormous amount of pressure because now I had this award and I felt like I had to live up to it... so I felt a dilemma for a while. I felt like, how am I going to navigate my career now with this pressure that's sat down on me? So I decided to kick it in the face and laugh at it and say, 'You know what, I'm not going to live up to it, I may never win another one but you know what, you can't take away the one I have.'"
Atta girl, Halle. And it looks to us like she's doing an award-winning job of being a Mama, too.