Celebaby: The Glossy Mags Present...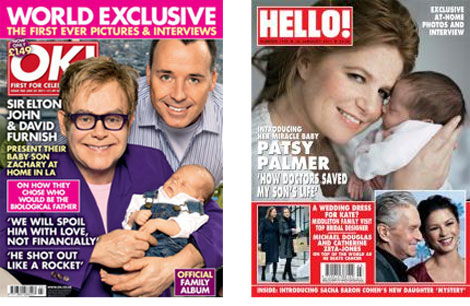 I popped out to my local shop yesterday (actually, it's not that local as it's a 10  minute drive away) and came face-to-face with a row of (trashy) glossy magazines featuring celeb' baby stories. Here are two of them...
Elton John
OK! Magazine has Elton John and David Furnish gurning at us 'proudly introducing' their new little lad, Zachary, to the world - there's been loads written about these three already; how Elton's quit showbiz to be a dad, how the baby is a 'replacement for and tribute to' a friend of his who recently died.
To how they're not going to have nannies and staff to bring him up, but they've bought the house next-door which is where the baby will 'go' when it all gets a bit too much.
I'm sure there'll be an avalanche of commentary, speculation and media backstabbing for y e a r s to come - poor little chap, at least he'll oblivious to most of it for a good while yet.
Patsy Palmer
Hello Magazine has Patsy Palmer on their front cover, telling of how doctors saved her new son, Bertie's life.  I didn't even know she was preggars!  *sigh*
Apparently her waters broke very early and she rushed to hospital, where she stayed and where Bertie eventually arrived a month early.
He's fine and Patsy's fine (but I have to say, Bertie?! Really...?).