Celebaby: Girls, Girls, Girls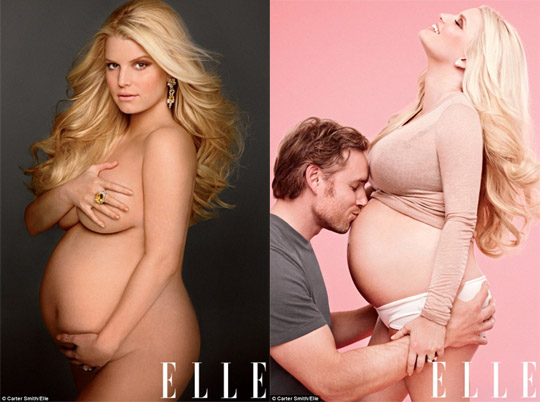 It's rather fitting for International Women's Day that two celebrity mums-to-be have revealed they are expecting girls; both Uma Thurman and Jessica Simpson have revealed they're both carrying little pink bundles.
Uma Thurman
There's not much else to add to the pregnancy reveal spiel earlier this week, other than her two 'on the outside' children - Maya (13) and Levon (10) - will be have a little sister to play with at the end of this summer.
Jessica Simpson
There are only a few days left before my 'I wager we'll have a Simpson baby announcement before the week is out' prediction falls flat on its face.
Instead what we have is yet another naked 'Demi Moore a'la Vogue magazine' preggars pose though.  Yep, Jess is on the front cover of Elle Magazine in that pose and I want to see the original NON Photoshop version.
I'm very well versed in the dark art of Photoshop but it doesn't take a trained eye, or a genius, to realise that Jessica doesn't fall out of bed looking like this.  Huge hair and pro'  make-up aside, the more I look at her belly button the more 'not in the right place' it looks.
It's subtle, maybe only slightly off centre, but I want to know what you think.  Not only that, if you compare these bump pictures to the recent pap' shots that have been springing up all over the place, she looks considerably smaller.
Now, of course, this could be because the shots were taken a few weeks ago - magazines issues aren't put together overnight - but, all the same...I still want to see those original shots.