Celebaby: Famous Last Words!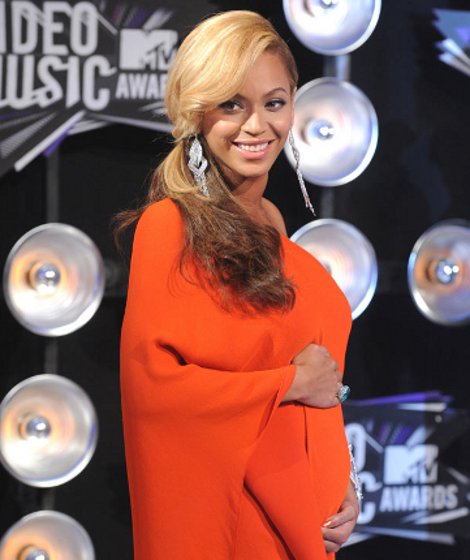 So, on the 18 August - a mere two weeks ago - I wrote about the latest 'is Beyonce pregnant?' rumour...
She's recently been reported as saying she's ready to settle down and focus on her marriage and starting a family with hubby, Jay- Z.  Here's what she said during an interview, with US Style,  to promote her new fashion range:

"When you're young -18 or 19 – you have the energy and drive. That's the time to work as hard as you can.

Now I'm a woman, and because I gave it my all, I can focus on my marriage. I can decide I want to have kids. I can be the mother I want to be and dedicate myself to my children."

What do you think?

I don't think it's a sign that she's going to be making any baby announcements anytime soon; it just sounds like someone who's got their head screwed on, despite living in a screwed up industry, and isn't in any rush to go forth and multiply!
Well did I get THAT wrong!
Performing at the MTV Video Music Awards on Sunday she announced her pregnancy news by unzipping her jacket, cradling her stomach and saying, to the audience, "Tonight, I want you to stand up on your feet - I want you all to feel the love growing inside me!"
The crowd went crazy and Twitter went NUTS!
Seconds after Beyonce made her announcement, Twitter registered a staggering 8,868 tweets per SECOND.
An insider has revealed, "Jay is ecstatic and over the moon. He really wanted this so badly. They barely told anyone...They kept it really secret until they were sure and now she simply couldn't wait to tell the world."
Well, that's one less rumour for us to worry about; next up: is Beyonce expecting a boy or a girl, maybe twins! And will he, she or they be called this, that or the other!?