Celebaby: Falconer, Bruni and Johnny Vegas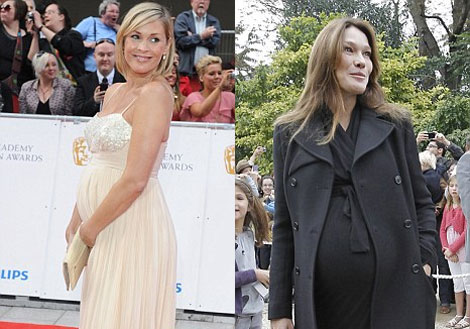 Yes, I know - Johnny Vegas.  I never thought I'd be writing about him in Celebaby but I couldn't resist; I've put him at the bottom of the page though, to give you a chance to put your elevenses down...it's not pretty!
Jenni Falconer
Squeaky clean Jenni Falconer, of the bland-blonde-presenter brigade, has finally given birth to her much-awaited daughter; she tweeted  that she and husband, James Midgely, are totally smitten...and relieved.
"The wait was worth it....our beautiful baby girl, Ella Rose Midgley, arrived last night [Tuesday] at 12.37 weighing 7lb 2oz. We are totally smitten!"
HURRAH! A sensible and very pretty name for the latest celebrity baby to hit the circuit.
Ella wasn't in any rush to make her debut though and had been happily keeping her parents waiting; my sons were both early but my daughter was 11 days late and, OH my goodness, does it begin to wear a bit thin after the first couple of overdue days!
Jenni had recently vented her overdue frustration, again on Twitter, "I'm now at the end of my pregnancy tether. The baby is like its mother and running late. It's obviously planning a "meet the world" outfit."
Well the waiting is over, now the REAL work begins!
Carla Bruni
The First Lady of France is expecting the arrival of her second child, first with President Sarkozy in six weeks time.
She looks HUGE already in all the recent pictures I've seen -  I'd got it into my head that she was expecting twins - and I'm sure she'll be relieved to have the baby safely on the outside.
However, not just because hauling a huge pregnant tummy around is uncomfortable, but because she can't wait to start drinking and smoking again; seriously.
"Quite frankly, I can't stand it any more," Mrs Sarkozy recently told French newspaper Le Parisenne, "I spend most of my time either sitting down or lying down. I can't drink or smoke any more. I'm in a hurry to get it over with."
Twenty Marlboro Lights and a beer at the ready then, Mr Sarkozy!
Johnny Vegas
Okay; brace yourselves and if you're eating anything I really suggest you put it down.
No, Johnny Vegas isn't the latest celebrity expectant dad but he HAS posed for the cameras, adopting that famous Demi Moore pregnant pose from 1991.
It's not pretty but it IS funny; he didn't just do it for kicks though (that would be a bit weird!) the photograph forms part of the 'Comedians: From the 1940s to Now' exhibition, on display at the National Portrait Gallery, shot by Karl J. Kaul.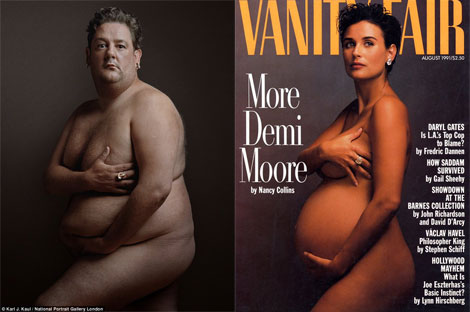 The exhibition is open until 2 January 2012...should you feel compelled to go and see Johnny's picture in person - perish the thought!