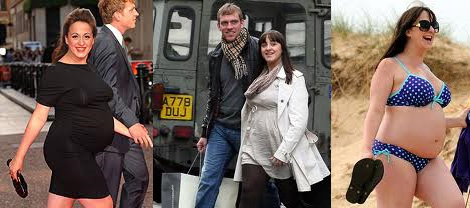 I've been keeping an eye out for the arrival of Natalie Cassidy's baby - it had to be soon!
I was in Tesco the other day mooching around the magazines when there she was on the cover of one trashy horrible piece of gossip tat with the caption screaming at me that she'd had a little girl.
HOW had I missed this event!?
A quick bit of digging around revealed that I hadn't dropped the ball at all - phew! - rather the news had been kept under wraps for a while until that all important OK! Exclusive deal had been signed and sealed.
The photoshoot has been done and young Eliza Beatrice will be gracing the covers of OK! any minute now, if not already - I'll have a look when I'm out and about today.
Apparently the money deal was just too good to turn down - yeah, I've had a few of those hahahaa!  Hey, not THAT kind of money deal! Wash your thoughts out *sigh*
What do you think of the name Eliza?
I rather like it! It just seems perfect for the daughter of a good ol' 'Landan gerl'.
I can't help but think of My Fair Lady though when Audrey Hepburn (who plays Eliza, if you didn't know) says, "I washed me face an' 'ands before I come I did!"
There isn't going to be a fitness DVD either, Natalie has said, "I want to be the woman who gets the exercise DVD for Christmas, not the woman who's in the DVD!"