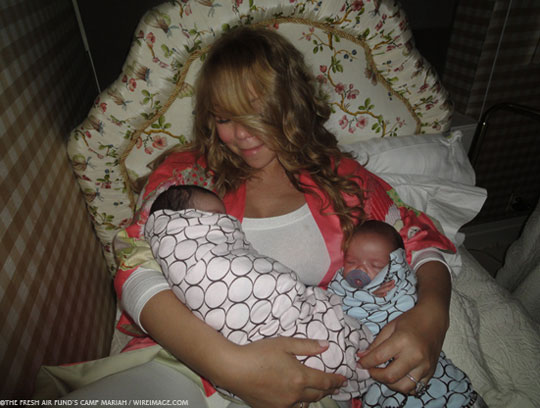 Unless you have a heart of stone you can't fail to smile at the utter JOY that motherhood is giving to Mariah Carey.  Yes I know she can be a bit over the top and, yes she probably doesn't live on the same planet as the rest of us, but parenthood is a wonderful leveller (well, on the whole it is).
I must confess to have been a little surprised by the quietness that's surrounded the Carey-Cannon family since Monroe and Moroccan were born earlier this year.  There was SO much fuss and hype surrounding their arrival - once Mariah and Nick put everyone out of their misery with their eternal, it seemed, riddles and cloaked comments hinting at a possible pregnancy - that I fully expected there to be have been 'more' immediately after.
I should have known really, it was the calm before the proverbial storm.  Although, I have to say, I'm rather liking this 'storm' - instead of the 'trashy' magazine deal, Mariah and Nick have set up a website to showcase selected pictures of their babies from their personal collection.
I couldn't resist going to have a peek and it's really lovely; there are some fabulous photographs featured on the site called, of course, dembabies.com and it's nice to see 'behind the scenes' photos of this new family, rather than staged ones.
There's been much excitement State side about the huge TV interview between Nick and Mariah and Barabar Walters (her name rings a bell, but I've no clue otherwise); Barbara was invited into their home and given almost unprecedented access to the family as a whole.
Lots of questions were asked and Nick had this to say about his twins' futures.
"I want to make sure we get education first. 'Society puts too much on entertainment and entertainers. They praise them like they're royalty, especially in America, where it should really be about the teachers or, you know, the doctors.  I want them to be able to sing as beautifully as their mother.  I want them to be able to play instruments and everything.  But I want them to go get a PhD."
Isn't that interesting; I'm sure he doesn't mind the money that comes as a result of having a career in entertainment where the people are treated like royalty though!  You can just hear the conversations now
"But dad! YOU and mum [ sorry, mom!] have a career in entertainment!" 
"Yes, but I'm sorry, YOU can't - you must get a job as an underpaid teacher or be overworked as a doctor!"
It's going to be interesting...