In today's Celebaby we've got SUPER-cute pictures of Ava Jackman - daughter of the delicious Hugh.
Cute Scooting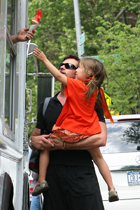 Now THIS is more like it!  THIS is what a four-year-old little girly should be doing and wearing (in my humble opinion) and I won't make any apologies for continuing to bang on about it.
Just read on and tell me which parenting model you prefer...
So there the paparazzi were, out scouting for work when they stumble across a fabulously under-dressed and cool-looking Hugh Jackman out with his four-and-a-half year old daughter Ava.
Ava's wearing a t-shirt, a pair of shorts and a cute little pair of FLAT ballet-pump type shoes that any of our daughters would wear; she's not got a hint of makeup on, her hair is just 'as-is'.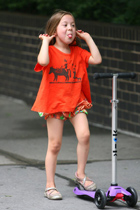 Father and daughter stop for an ice-cream from an ice-cream van NOT some flashy over-priced pretentious ice-cream parlour, and then this celebrity offspring happily scoots around on her scooter.....like OUR kids do!
But there's more!  What does this fabulous little girl do when she spots the paps?  Does she strike a pose?  Does she pout? Does she look down her nose at them and strutt past (Suri Cruise).
NO!  She smiles for them and then does what all 'normal' kids do for the camera...she pulled a funny face!  Isn't that adorable!!
BRAVO for Ava Jackman!