Celebaby: Court in the middle and Baby Joy for the Travoltas
Today's Celebaby is a bittersweet mix of the latest baby news in celebrity land.
Halle Berry and Gabriel Aubry  seem destined to engage in custody battles over their daughter Nahla and after a string of tragedies and torment, there's finally some fantastic news for the Travolta family.
Court In The Middle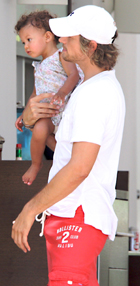 When you end up resorting to the long arm of the law to sort out 'who gets the kids' the only winners are the lawyers you employ.  It irrevocably destroys already fragile relationships, costs a fortune and is totally the wrong arena for resolving family issues.
Halle Berry is said to be planning to take daughter Nahla to South Africa for three months whilst she works on her latest film role and, understandably, Gabriel isn't jumping for joy at the prospect of not seeing his daughter for such a long period of time.
Apparently, he's already feeling frustrated at his limited access to Nahla and one of those 'handy sources' has said...
""It's been pretty difficult for Gabriel to see Nahla the last few weeks...he's really getting sick of it and it's getting to the point where he is seriously considering his options regarding pursuing permanent custody. He refuses to give up rights to his daughter, he loves her more than anything and is determined to be a regular, full time fixture in her life."
But get this! It's also been reported that in a bid to come to some sort of arrangement to cover the three months in SA, Halle Berry has supposedly offered to pay Gabriel to be Nahla's full-time 'nanny' and go to South Africa with them for three months!
I can't decide if it's the perfect solution or just insulting, what do you think?
The Travoltas Announce Baby Joy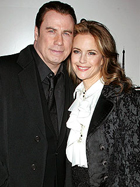 If ever a couple deserved some good news and joy in their lives it's John Travolta and Kelly Preston.  To say that life's been tough for them lately would be something of an understatement - their 16-year-old son, Jett, died in January 2009 whilst on holiday in the Bahamas after hitting his head on the side of the bath during an epileptic seizure.
Then a Bahamian politican attempted to blackmail the family by threatening to publish photographs taken of Jett at the time of his death unless they stumped up big sums of cash (I'm at a loss for words on this one...) and earlier this week the family's dogs were run over and killed at Bangor airport in Maine, USA as they were being walked off the plane.
However, the couple were able to announce good news on Tuesday telling the world that Kelly, 47, is three months pregnant...
"It's impossible to keep a secret ... especially one as wonderful as this! We want to be the first to share this great news with everyone that we are expecting a new addition to our family.
Love, John, Kelly and Ella"
Now if that doesn't give you goosebumps and make you smile you might just want to check to see if you've got a pulse!