Celebaby: Congratulations Carey And Cannon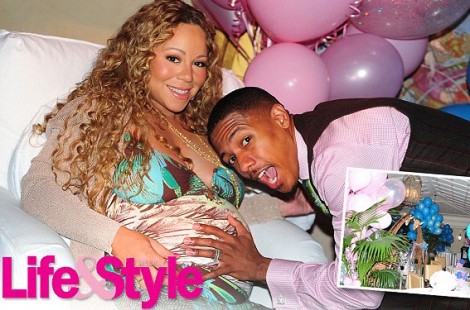 HURRAH!
At last 'dem babies' have arrived.
Mariah Carey and Nick Cannon's twins arrived safely on Saturday 30 April, which just happened to be their third wedding anniversary.
Mariah's spokesperson, Cindi Berger, confirmed the news to The Associated Press, "The singing superstar gave birth Saturday at 12:07 p.m. EDT at an undisclosed hospital in Los Angeles. Berger says the baby girl was born first, weighing 5 pounds, 3 ounces, and was 18 inches long; her brother was next, at 5 pounds 6 ounces, and was 19 inches."
Oh I do like it when they give all the details we want to know.
However, 'we' had all been led to believe that Mariah and Nick had already chosen names for the twins but this turns out not to be the case.
When I went into labour I was driven in, in order, a blue Metro (my first ever car), a red Metro (my second car) and I had my youngest at home.  Mariah, on the other hand, was driven to the hospital in their Rolls Royce Phantom.
Having already had one false alarm, Mariah thought this time was just another one but apparently her husband, Nick, was so nervous he took her to the wrong hospital department and had to be directed to maternity by a member of staff; cute.
We can expect lots of slushy stuff from Mr and Mrs Cannon (or should that be Mr and Mrs Carey?); Nick has described the birth of his new son and daughter as  'the most incredible anniversary gift', and later tweeted, "I'm in the happiest place I've ever been in my life. I never had more amazing things happening. I am humbled by God's Favour!!"
To top off a great weekend for the couple, they renewed their wedding vows at the hospital the day after the twins much, and long, anticipated arrival.
I for one am VERY relieved they're here so I can stop scouting the press for news; next, keeping an eye out for the announcement of their names - my work is never done *grin*