Celebaby: CONGRATS to Lily Cooper (nee Lily Allen) And Piers Morgan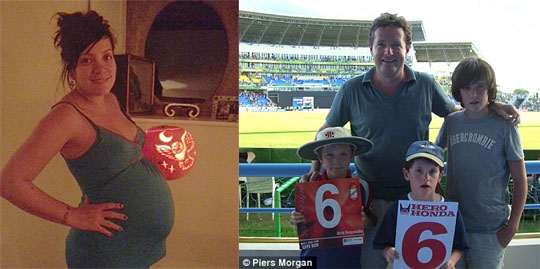 Two new babies have joined the ranks of the 'celebrity offspring' - Lily Cooper (that's going to take some getting used to writing) has had a little girl and so has Piers Morgan and his wife; both little girlies share the same birthday, aahhhhh.
Lily Cooper
I'm not ashamed to admit that I had tears in my eyes when I read that Lily Allen, sorry, Lily Cooper gave birth to a baby girl last night and that all is well with both mum and daughter.
Whilst there's not any news at the moment, regarding names and weight, this has really made my morning - I'm not given to feeling much celeb' empathy, but when Lily lost her baby son last year at six months pregnant, I swear my heart broke.
I can't even begin to imagine how extra loved, gazed at and cuddled this little girly is going to be; the only clue we might have as to a potential name is 'Betty', apparently whenever Lily spoke to her mum about the baby she always referred to 'her' as Betty.
So who knows, one thing I know for sure is that we'll find out and that Lily and husband Sam are over the moon.
CONGRATS to them both and welcome to the world baby Cooper!
Piers Morgan
I never thought I'd see the day when I congratulated Piers Morgan (it's a strange old world) but he's the proud daddy of a baby girl, also born last night, who's been named Elise - now THAT is such a great name, but then I would say that as that's my daughter's name.
He tweeted last night saying, "It's true. I've become a dad for the 4th time, to a baby girl called Elise. She's absurdly beautiful, and utterly adorable."  It must have something to do with the name, my Elise is absurdly beautiful too.
What I didn't know about Piers Morgan is that he already has three sons from his previous marriage - mind you, Piers has never been on my 'one to watch' list so it's hardly surprising; I first heard about his new arrival on Classic FM this morning - who'd have known they'd be such a reliable source of Celebaby news!