Celebaby: Colleen Denies Pregnancy Rumour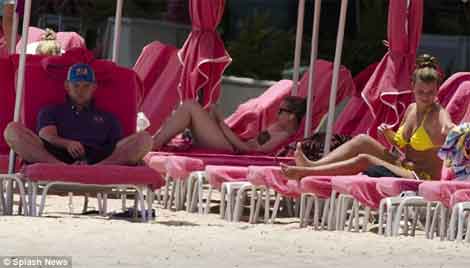 It seems to me that when footballers aren't pansying around the pitch (sorry, rugby is much better than 'girly-ball') they dash off on holiday with their wife or girlfriend; it's almost as if they can't think of anything better to do.
"I'm not playing for a couple of weeks luv, what shall we do?"
"I dunno, go on holiday?"
"Great idea! We haven't been away for at least a month! Pack your bags darlin' - we're off!"
Frank Lampard and Christine whats-her-face are always being papped with their faces stuck together in the sea in some resort or other.  Coleen Rooney is another one, although she's quite happy to clear off on holiday without husband Wayne.
She's been pictured looking a little 'rounder' than usual on the holiday they're currently enjoying in Barbados.
She can't win really, if she piles on too many pounds the papers slam her for being chunky, if she loses them they start printing their usual 'Coleen, looking worryingly thin' headlines.
THIS time they've gone for the 'Coleen must be pregnant' approach and she's obviously had enough as she took to Twitter - rumour-denying platform of celebrity choice - to say that she wasn't, ACTUALLY!
"Another lovely day in Barbados! And no am not pregnant! Cant i breath out and relax on holiday without a pregnancy rumour!#AmnoskinnyMinnie!"
Then as an afterthought she added,
"You know me!! #Ienjoymyfoodanddrink."
Rather than the 'Is Coleen preggars or not?' question, the more pertinent one is...do we actually care?!