Celebaby: Chips Of The Old Blocks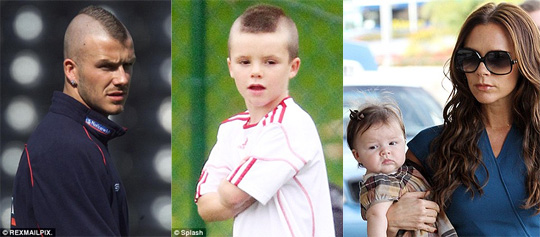 Certain celebrity kids are definitely chips off their old blocks - the Beckham and Bloom kids are just some of them.
Beckham Blocks
Cruz Beckham, now six-years-old, is now sporting a mowhawk hairdo a'la his dad in 2001, and is a real spitting image of his dad - I'm telling you, all the Beckham boys are going to break hearts and feature on many a teenage girl's postered wall in not too many years to come.
Harper Beckham is growing up FAST and, at all of four months old, already seems to be perfecting her mum's expressionless pout - mind you, I 'd probably look less than impressed at being carted through another airport again for yet ANOTHER fashion show and yet ANOTHER shopping trip somewhere too.
Flynn Bloom
If I had to choose my favourite celebrity trio of 2011, there'd be no contest - Orlando Bloom , Miranda Kerr and their son Flynn Bloom would win hands down.
Flynn has to be THE cutest celeb' child I've ever seen - in fact, across the child board in general - he's utterly GORGEOUS and becoming more so by the day.  Miranda and Orlando seem to have their feet firmly planted on the ground, they're both invariably smiling and it's clearly rubbing off on the lovely Flynn (Victoria B, take note!).
He was photographed out and about with his mum, pushing him in a stroller, and MY WORD did he provide some fabulous photo opportunities for the ever-present media; what a little dude!