Celebaby: The Charmers and The Crooners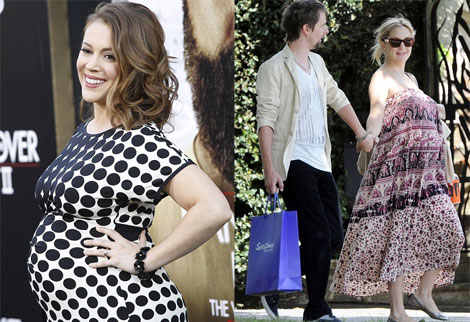 Alyssa Milano of Charmed and Melrose Place fame stars in today's Celebaby, alongside Matt Bellamy and Kate Hudson.
Alyssa Milano Looks Charming
If you haven't heard of Alyssa Milano then you won't have watched Melrose Place or 'Charmed' in which she plays one of three witch sisters; both my teenagers love watching it.
She's well known for her toned body but, in recent pictures, I have to say she looks just as fabulous when she's rather pregnant too.
She was photographed at the red carpet premiere of The Hangover: Part II and has recently revealed that she's expecting a boy.
Her pregnancy announcement was made in February and her due date is towards the end of the summer; it's going to be busy here on Celebaby come July and August!
Matt Bellamy Sings To His Unborn Son
If you're dad's the lead singer in a band then I suppose you'd better get used to listening to him warbling a few tunes.
Matt Bellamy, engaged to Kate Hudson, is the front man of 'Muse' and the pair of them have taken to singing to their unborn child, which makes him/her kick; cute.
Matt has said, "I''m already getting the vibraphone out and the Wurlitzer - these nice sort of twinkling high nice sort of mellow sounds that makes the baby kick and stuff."
Both Kate and Matt have decided not to find out the sex of the baby, but Kate confessed to Ellen de Generes recently that she thinks it's a girl, saying, "I think that everything has been so different that it is a girl."
Matt's drummer band mate, Dominic Howard has joked that Matt's going to start writing lullabies.
"'I'm sure it will effect him a great deal because everything effects you musically in your life.  People you meet and music you hear, it all has influence or can do, on your artistic output and that is such a great massive thing to feel."
Matt and Kate's baby won't be the first 'Muse baby' - the guitarist, Chris Walstenhome, has FIVE children!