Celebaby: Cats And Kidneys

Today's Celebaby is about 'cats and kidneys' - Lily Copper's mum has let the proverbial cat out of the bag and Nick Cannon (Mr Mariah Carey) has kidney failure.
Ethel May Cooper
It's funny how you don't realise things until you're told them - had you noticed that still some five, or so, weeks after Lily Copper's daughter arrived safely in the world we still didn't know what she'd been called?
I mean, it's one of the first things you ask (or want to know) along with how much the new arrival weighed - at least they are the things I want to know.
Well, after keeping the little girly's name under wraps for so long (whether intentionally or not, who's to say) Lily's mum accidentally revealed her granddaughter's name on Facebook (whether intentionally accidentally or not, who's to say!) when writing to a friend.
So Ethel May Cooper is her name - some people like it, some people loathe it and predict a trip to the deed poll office the moment she hits 16 and can legally change her name sans parental permission.
What do you think - good name, bad name or just downright ugly?
Nick Cannon
I'm mildly amused by the fuss that's erupted over, what's been described as, the  'mild kidney failure' that struck Nick Cannon down over Christmas, although I'm not sure I should be.
I think it's because kidney failure is serious and for some reason, in my (perhaps) warped mind, both Mariah and Nick tweeting photographs of him in the hospital looking pretty okay have made it seem not so serious. I also can't help thinking maybe he just had kidney stones...?
Joking aside, any unexpected hospitalisation of a loved one isn't funny, especially when their stay is on an intensive care ward there are new babies at home - all of a sudden our mortality is thrust into the spotlight and all the worst case scenario 'what ifs' will rush through everyone's minds.
Well, the good news is Nick seems to be okay; he's out of intensive care, he's been transferred to a hospital in Los Angeles - he was originally admitted to hospital in Aspen whilst on holiday - has had an operation, which he was awake for (I know this because Nick told 'us' so on Twitter) and a couple of hours ago he said he's recovering and about to be stronger than ever.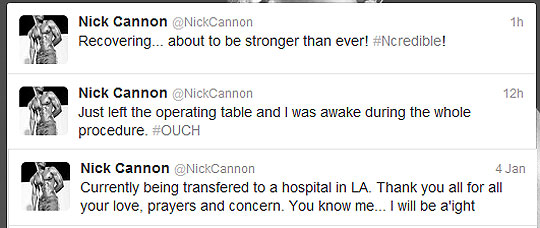 PHEW!  I can sleep soundly in my bed again at night now knowing all that!