Celebaby: Carly Zucker Gives Birth!

We have baby news!
Carly Zucker and Joe Cole are the proud parents of a baby girl!
Their daughter was born at The Portland Hospital in London early on Thursday evening, weighing 6lb 3oz, following a labour that lasted 16 hours, according to the Daily Mail. Both mother and baby are said to be fine. Earlier reports ind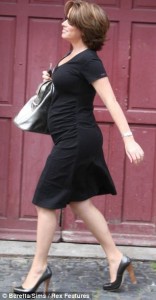 icated that the proud parents knew they were expecting a girl and planned to call her Scarlett, but they have yet to confirm their daughter's name.
Meanwhile news reader Natasha Kaplinsky is just a couple of weeks away from her due date but was snapped looking rather bumptastic and glowing at a charity do this week.
Natasha, who already has a son named Arlo,  became Britain's highest-paid newsreader when she left the BBC to join Five in a £1million-a-year deal.
She reportedly took a £300,000 pay cut when she returned to work after five months maternity leave so that she could spend more time with her son. Eight months later, she was expecting again! Expect more baby news soon... and good luck, Natasha!