Celebaby: Carey's Conception Secrets & Another Willoughbaby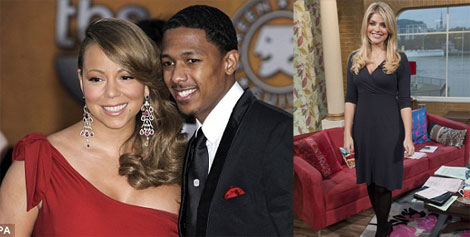 Mariah Carey and Holly Willoughby are the stars of today's Celebaby!
Carey's Conception Secrets
After keeping schtum for so long about the pregnancy, Mariah Carey has already revealed a bit more - her conception secrets!
After a miscarriage, in 2008, her medical team advised her to relax and not get stressed if she wanted to become pregnant again - easier said than done I'd imagine!
The secret to success with this for the Carey couple was accupuncture and eating lots of popcorn in bed, with hubby Nick, whilst watching movies and TV series!
She's also commented on being worried about the birth and privacy issues. Any woman who's had a baby knows that all privacy and dignity goes RIGHT out the window the moment you jump on the motherhood bandwagon.
Mariah's already exploring booking out a whole delivery suite...who's willing to bet money on it becoming the entire hospital before long!
A new Holly Willoughbaby
Yesterday, live on This Morning, Holly Willoughby announced that she's expecting her second child next May.
I can't believe she's only 29 years old, it feels like she's been on our TV screens FOREVER! And she keeps popping up everywhere too.
Holly is married to TV producer Dan Baldwin (ha! I write that as if I know who he is, I haven't got a clue!) and the new baby will be a brother or sister to Harry, who was born in May 2009.
I wonder if this baby will end up sharing the same birthday as Max? I've got two that do and they wouldn't recommend it!  Neither would I, it makes for a very expensive day of the year *sigh*