Celebaby: No Carey Twins And No Santa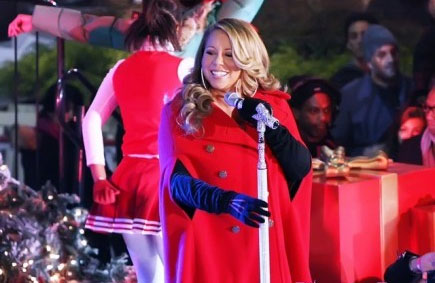 Oooooh there may be trouble ahead in the Carey/Cannnon household in years to come!
Mr Mariah Carey, Nick Canon, has gone on the record and denied that Mariah is having twins.
The rumour mill went into overdrive again when she referred to her baby bump as 'they'.  She's spent a lot of her pregnancy recording her latest Christmas Album and said, "I hope they don't end up hating Christmas!"
In clearing up that little rumour, he had this to say, "That rumour started because she said something about 'they' but she was using the word 'they' as in, like, he and she."
Mariah Carey is a self-confessed Christmas obsessive; she loves it, ADORES it and probably eats, sleeps and breathes it!
I must say, I'm finding it rather amusing that she's featured on the CD cover of her latest festive warblings looking a good 15 years younger than she is and, dare I say it, a few stone lighter even before being preggars!
So where's the trouble!?  WELL, it turns out that Mariah's hubby doesn't want his children to believe in Father Christmas *GASP!*
According to Mariah, on her Twitter page, Nick has been whispering things to her tummy...
"Nick is being SO bleak trying to whisper to my tummy, 'There's no Santa! UGH! Please stop him!!!"
I'm sure it's all pretty tongue-in-cheek, and a compromise does seem to be in the on the cards as Nick explained, "At 3 years old my dad told me there was no Santa. And my wife is Mrs Christmas, so I have to compromise on that."
I rather think you will Mr Cannon!
Telling kids there's no Santa! Whatever next??!!  *mutter mutter*