Celebaby: A Brother Or Sister For Zachary Furnish-John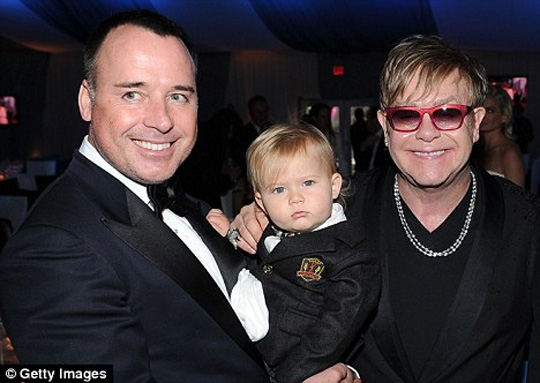 Zachary Furnish-John has recently had his first birthday and OH MY GOODNESS he's such a little dude! How model 'pouty' and every inch a celeb' child does he look in the above photo; I think he looks like a very young Leo DiCaprio, what do you think?
And, wow, his genetic mother (I don't know how else to describe her, sorry) must be stunning!
So, Elton and David have spoken out about their desire for Zach to have a brother or sister.  Apparently they've been talking about it for ages and are set to make a final decision in the summer when they're on holiday in the South of France.
David has spoken about approaching Zachary's mother again...
"We could go back to the same egg donor, so biologically there would certainly be a connection between brother and brother or brother and sister. But she has a life of her own and her own family.
"It's a big commitment to make, nine months of their life that doesn't just affect them but their children, their husband, their partner. If we found a surrogate who is half as beautiful as our first, we would be very lucky."
I'd be surprised if there wasn't another Furnish-John baby and despite the backlash that their family set-up causes, I think young Zachary and any brothers or sisters are in safe and good hands.
Elton and David consulted with counsellors and asked for advice on how to approach raising a child within their dynamic...
"We've taken advice from counsellors. We've put a whole scrapbook together about his creation, the people who were involved in the process and how the intent was about love," David reveals, "We're going to raise him to be proud of who he is."
BRAVO, I say and let everyone on the opposite side of the fence say what they like.