Celebaby: A Little Boy For Tori Spelling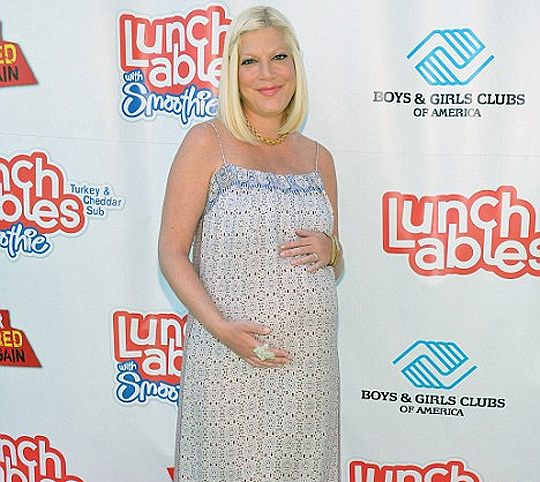 Wow that pregnancy went by super fast!  Mind you, with Tori Spelling's almost constant state of pregnancy one does tend to blur into the next...and the next.  The question is: will there be a NEXT?!
Apparently not, if we believe a word that she says, but then I'm sure there were mutterings not so long ago about a fifth baby not being unwelcome if he, or she, did happen to 'happen'.
So after waiting for ages for the arrival of babies and having to kill time talking about Chantelle and Alex (that's more like MURDERING time, not just killing it!) we've had two bits of new baby arrival news this week.
Finn Davey McDermott arrived on Thursday evening and weighed 6lbs 6ozs and is now little brother to:  Hattie (10 months), Stella (4) and Liam (5).
With this to say on the subject of more babies, I wonder whether the idea of baby number five has been firmly reconsidered...
I couldn't be happier that I'm finally at the end and I get to meet the baby so soon, but I actually love being pregnant, so if it is my last, I'll be sad never to be pregnant again. It'll have been a precious moment in time and it'll be over with, so it is sad.
Hmmm, it's the 'IF this is my my last' bit that could very well be the get out clause there; we'll just have to wait and see.