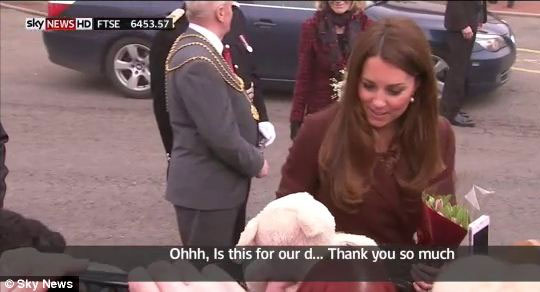 Both Jessica Simpson and the Duchess of Cambridge are keeping mum as to whether they're expecting a boy or a girl.  Whilst no one other than Ellen de Generes really cares what Jessica's having, the world has gone a little crazy over the fact that Kate my have accidentally let the cat out of the royal baby gender bag during a walk-about in Grimsby on Tuesday!
There are news clips of it all over the place - if you haven't seen them, and you're not missing much, it went a bit like this:
Kate was meeting, greeting and doing the hand shaking thing with the crowd when someone gave her a big teddy, "Ohhhh, is this for our d...? Oh that's very sweet of you," she said, or words to that effect.  A lady, a few people down the row, heard what Kate said and asked, "Did you say daughter?!"  
Now, I've watched the news clips and I've read various reports in the press which say Kate blushed, looked and sounded flustered as she denied knowing the baby's gender - I have to say it doesn't look like that to me.  As it is, if you blink you miss the whole 'about to say daughter' part anyway.
All gender bets are off at William Hill, they suspended betting on it at 10pm Tuesday night, and now we're into girly name speculation.
The smart money is on a little princess being called Elizabeth - that's my grandma's name, and my daughter's name, Elise, is derived from that, it made my grandma happy and I'm sure the Queen would be rather chuffed if her first great-granddaughter carried her name.
We only have to wait until some time in July to find out and then there'll be all the post-baby speculation to deal with!
What do YOU think: are Kate and William expecting a boy or a girl?