Celebaby: Blooming Bumps & Carey Twins Go Home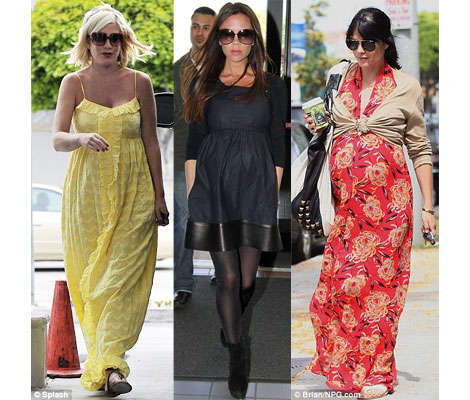 The Carey/Cannon twins are finally at home and several expectant celeb' mums dress their bumps in pretty summer dresses.
Carey Twins Go Home
Moroccan and Monroe have finally left the hospital and are at home; I really must stop calling them the Carey twins as their surnames are Cannon.
I have no concept of what it must be like to have a baby and then NOT be able to take it home with you; my youngest was born at home so I avoided hospital completely with him.
I do remember how I felt when I was allowed to go home with my eldest; nervous doesn't even come close to describing it and Nick Cannon (Mr Carey) is feeling the same way too,
Speaking to Access Hollywood on Saturday evening, he said, "My twins came home today,I didn't even want to leave, but I had to because I've got to be here."

He went on to say, "It's the first day to have my children at home so I've been loving that.  There's no hospital rooms and there's no nurses, it's just us.  So it's real; a lil' scary at times, but we're handling it."
Keep your eyes peeled for the happy families pictures in all the glossy magazines, we shouldn't have to wait long.
Blooming Bumps
Ok, I know Victoria Beckham isn't in a pretty summer dress - what IS it with her and black? Jeez, girl go for broke and put some colour on!
I suppose wearing a dress and NOT covering her bump with a handbag that could double up as a three-man tent is a step forward though.
She's seven months preggars now and is rumoured to have already hired trainer-to-the-stars Tracy Anderson to help her lose 20 pounds (that's a stone and a half) in four to six weeks after the baby has arrived; I'm all for staying in shape but that's MAD.
In contrast, just look at how amazing Tori Spelling and Selma Blair look in their colourful and floaty maxi-dresses.
Both are 38; Selma Blair's expecting her first baby any day now - there seem to be lots of 'any day now' babies waiting to arrive at the moment - whislt Tori Spelling, who's expecting her third, has a little while longer to go.
She has a son and a daughter already, so both her and her husband (Dean McDermott) have decided to wait until the baby arrives to discover the gender.