Celebaby: Baby Portman And Bits And Pieces
I fancied a little Celebaby buffet of bits and pieces today
Natalie Portman
Natalie Portman has had her son.
The news was announced by people.com but that's IT, that's all we know.
There's been no comment from the Portman camp so we don't know when her son was born or where - I wonder how people.com even know...?  This is why I'm not a news story hound and other people are!
More news as and when we get it; if we get it...
The Brange' Clan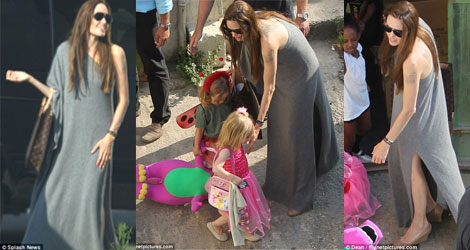 Angelina, Brad and Co are currently in Malta.
Brad's working on a new film - World War Z - and whilst he was busy in the 'office', Angelina took the kids to an indoor play park - it has to be like going on full-scale military manoeuvres every time they go out.
The twins, Vivenne and Knox, decided to go in fancy dress - Knox chose to be a tutu-wearing ladybird (there's a boy who clearly won't be dictated to by gender stereotypes) whilst Vivienne opted for a pink princess look.
I have NO idea what on earth Angelina was wearing, it looks like an old grey blanket my nan used to have!  It's made just a bit happier this morning knowing that Ang' doesn't look good in everything
Flippin' 'eck Suri
Oh yes!
JOY and rapture!
Suri Cruise has been papped wearing FLIP FLOPS two days in a row; I know, amazing!
Suri's been voted as the fourth 'cutest celebrity child' in a recent poll in Heat Magazine (I feel 'dirty' even knowing that fact) she was beaten to the number one spot by Cruz Beckham (I wonder her son winning that accolade cracked a smile on Victoria's face...?).
I must confess, I think Suri's a beautiful little girl and never more so when she's just casual like on this occasion with her hot pink dress and super-comfy flips flops.
I can't see her ever leaving the house dressed in ladybird or pink princess fancy dress costume though, can you?!