Celebaby: Baby Bikini Brouhaha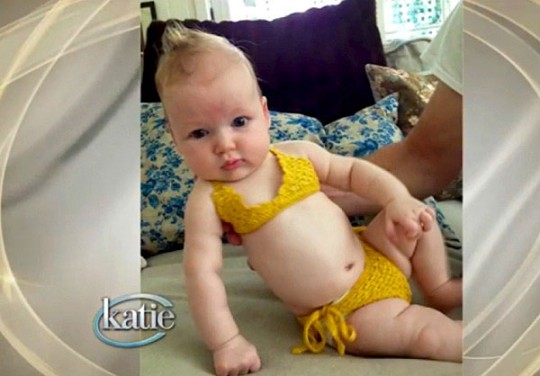 Poor old Jessica Simpson can't seem to get very much right just now.
From the moment she was obviously pregnant but didn't say anything, to the moment the announcement was made along with saying she was going to eat whatever she wanted to and in whatever quantity, then to piling on the pounds in style and the emerging details of the Weight Watchers deal, she's been on the receiving end of some unkind media and celebrity comment.
Her much awaited first TV appearance failed to reveal (as far as I know) whether or not she'd reached her Weight Watchers $3 million plus bonus weight loss target yet, but she did reveal that she wouldn't receive a penny (or cent, to be financially correct) of it until she had.
This would suggest that she hasn't, although she has lost over 40lbs so far, apparently, and her first Weight Watchers TV advert was released in the States on Tuesday - I've watched it and I can't help but laugh; Jessica talks of being ordinary and just wanting to be healthy for her daughter bla bla bla, then at the very end she says, "Weight Watchers, because it works!"
HAHAAA!!  More like, "Weight Watchers, because they paid me a shed load of cash to lose weight and get you all to join!"
Anyway, that's not what I was going to tell you about.  During her first TV appearance since having her daughter, Maxwell, four months ago, Jessica showed a picture of Maxwell wearing a mustard coloured crocheted bikini.
From the storm of criticism that's ensued, you'd think she'd tatooed her child with Hell's Angels slogans!
So, tell me what you think:  is this the thin end of the wedge in the sexualisation of children?  Will there be baby thongs next, followed by control pants to slim down round baby tummies and chubby thighs?  OR, is this really just nothing to get worked up about?
I have vague recollections of owning a bikini as a child;  I on't recall any big fuss being made back then, in the late 70s, early 80s, about childhood sexualisation in the form of two-piece swimsuits for little girls - they were JUST bikinis!
I don't have any problem with Maxwell Simpson's little crocheted bikini, what about you?