Celebaby: When And Maybe Baby!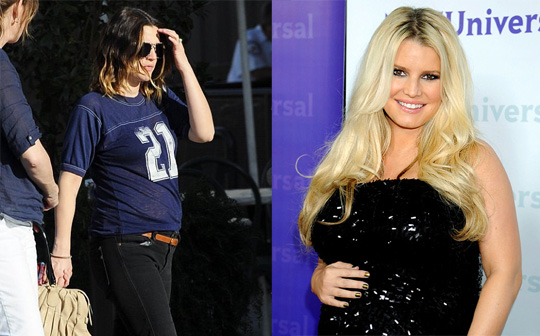 The big question still remains - WHEN will Jessica Simpson's daughter make her grand entrance into the world?!
Jessica's exact due date has always been a bit of a mystery but she got SO big, SO fast we all thought she was ready to pop four weeks ago! So we're still waiting and Jessica's still getting bigger and various other famous people have chosen to make it their business to have a pop at her for being so big, causing other famous people (if you can call the slightly terrifying Sarah Palin, famous) to charge to Jessica's defence.
Jessica's explanation for her gargantuan bump?  No, not secret twins - she's just retaining a lot of amniotic fluid.
The rumour mill are slowly working themselves up into a tizzy as to whether or not Drew Barrymore is expecting or not.
She was seen leaving a doctor's clinic a month, or so, ago clutching what looked to be scan photos; she was papped out and about a week ago sporting, what definitely looks like the beginnings of, a baby bump but as yet there's been no official word, either way, from the Barrymore camp.  So we're just going to have to wait and see on this one: maybe Drew is preggars and maybe she's not.