Celebaby: Aoife Belle Foden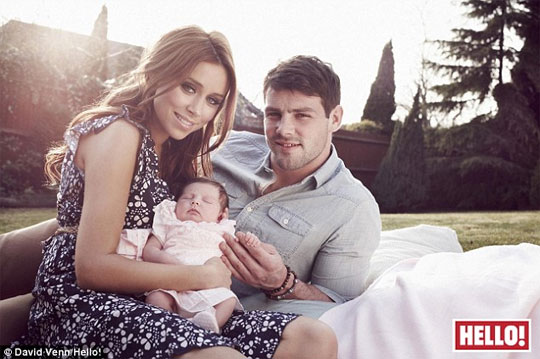 I'm rather in love with this little family at the moment - it's the rugby connection with my beloved Northampton Saints mainly, but also because Una Healy has (to my knowledge) been nothing but elegant and dignified in her public life; gorgeous without being slutty (to be frank) and she and Ben have given their new daughter a beautiful name that's different without being weird or a bit 'OTT celebrity'.
The official word on Aoife's arrival proclaimed that mum and baby were doing well and gave no hint of the drama that had occurred in the delivery suite, which has been revealed in an interview with Hello magazine.
Shortly after Aoife arrived, she started choking - choking is one of my biggest fears and a little six-year-old girly has died from choking on something at school in the last seven days.
"I was screaming," said Una, "it was the worst moment of my life! There's this precious little person who you would die for and you just can't bear to think of anything happening to her."
Ben went on to reveal, "We went into panic and pushed the emergency button and the next thing we knew, our baby was whisked away and there were alarm bells ringing and staff running around."
Una is completely smitten with her baby daughter and has admitted to sneaking peeks at her when she's asleep, "During the night, I'll wake up, even when she's sound asleep, and sneak a peek. She'll be lying there, with her tiny hands up by her face - she's so ladylike - and my heart could burst with love for her."
Ben and Una are going to get married later this year and live in Bedfordshire, just down the road from me; Una was spotted out and about enjoying the amazing sunshine we had late last week, with baby Aoife and her own mother and she looked absolutely stunning - a proper yummy mummy, I can't wait to see the wedding photos.