Celebaby: Anxious Waiting For Holly Willoughby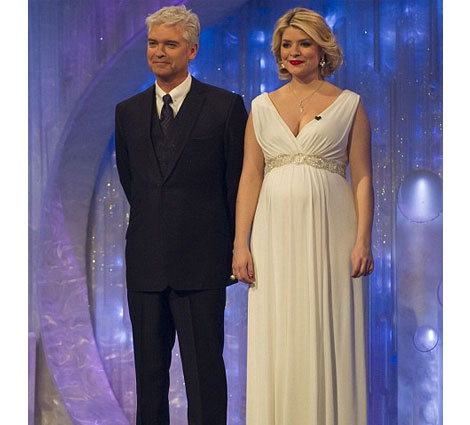 Scouting around the internet this morning for the latest news on all the Celebrity baby bumps, the last person I expected to be threatening to make an appearance was Holly Willoughby's, as yet, unborn daughter because she's not due until MAY!
I'm telling you, Mariah Carey must have had her twins in secret and decided not to tell anyone; she had labour pains a g e s ago and I've been keeping an eye out for news of their arrival, but there's no sign of them...yet (just watch, the news of the Carey arrivals will break this afternoon now).
All the latest Holly news is coming from Philip Schofield via Twitter - I'm not in the country at the moment, but I assume he's also keeping This Morning viewers up-to-date with how things are in the TV too.
On Tuesday morning the news broke that Holly 'may or may not be in labour' which was later confirmed; this morning Philip tweeted this:
"Just spoke to @hollywills who says thanks so much for all your good wishes.
Here's the current situation, obviously if the baby arrived over the last few days it would be quite early, so the team around her are balancing when is the best time for her to be born.

Holly said that she hadn't been in full blown labour since Monday! And though she was having contractions she's as comfortable as can be expected. Everyone fine and happy, but the wait goes on for a little bit longer. I'll let you know if I hear anything else."
So more spaces to watch - everyone here at PlayPennies wishes Holly and her family all the best.