Celebaby: Amanda Holden Introduces Us To Hollie Rose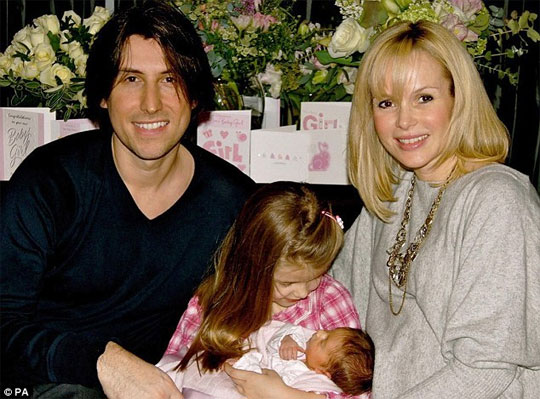 I'm still stunned at the trauma some people go through when trying to build their family - in recent years we only have to look at Lily Cooper and Amanda Holden to feel truly blessed when any of our parenthood journeys are uneventful.
Hollie Rose
Amanda gave birth to Hollie Rose two weeks ago and almost lost her life in the process, but now she's almost well enough to be thinking about going back to work as a judge on Britain's Got Talent.
A friend has told the press that Amanda won't do anything silly and won't go back to work unless her medical team say it's okay for her to do; she's also said that working on Britain's Got Talent is hardly 'greulling manual labour' so all should be fine.
I like Amanda Holden lots and I want to know how it is she looks the same now as she did at least 15 years ago!
David Beckham gets another red card
David Beckham is still pimping his men's knickers range around the country and apparently said he didn't know where to look when he first saw the advert, starring himself wearing them.
"When we were watching the Super Bowl yesterday [Sunday] in a room of about 20 people and it came on and I actually didn't know where to look - it was kind of embarrassing. The kids loved it but they were also embarrassed as well because there was other people in the room."
DB was also on the Jonathan Ross show the other night and also told about how he was 'sent off' the touchline for disagreeing with the referee at a kiddies football match.
"I was watching the kids play the other day, it was the game just before they were playing.  It was the younger kids of Romeo's club, and they're playing in the game and there was a penalty given. And the kids are seven-years-old and he sent the kid off.
And I was like, "Come on, he's seven-years-old, referee, you can't send him off." And he looked at me and was like, "Yes, I can."  And I was like, "Ok, well, you can't, he's seven-years-old."
And he came over and gave me a red card. He told me to get out of the park.  For real. The gate was only 20 yards away and I waited and went back in when my son's game was on."
You can just imagine that ref' going home to his family and saying, "You'll never GUESS who I gave a red card to today! DAVID BECKHAM!" - it'll be one of those 'no-one-messes-with-me-when-I've-got-my-referee-uniform-on' stories that will be dined out on for years; trust me, I know a couple of football refs and they take themselves very seriously.