Celebaby: Alicia Keys Rumours and Permanent-Custody-Pete
In today's Celebaby - is Alicia Keys pregnant and Peter Andre wants to have permanent custody of his kids
Is She Or Isn't She?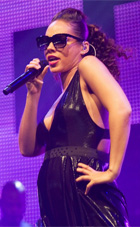 The rumourmongers are hard at work in the celebrity 'is-she-isn't-she-pregnant?' department of the rumour mill and speculation over whether or not Alicia Keys in in the family way is rife!
I must confess that when we were watching her guest appearance on American Idols a couple of weeks ago (it's one of my few and far between guilty pleasures!) we did sit and muse over this very thing!  At the time there were two possibilities a) she most definitely was expecting or b) she was the victim of one of the worst wardrobe faux pas we'd seen in a long time.
Well now it seems that option a) is the more likely of the two, although looking at that outfit BOTH a) and b) could apply!
Have a look at this picture, which was taken during Ms Keys' performance on the opening day of Radio One's Big Weekend music festival last weekend, and see what YOU think...
Permanent Parenting for Pete?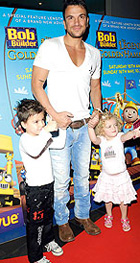 When you look back over your life I'm sure, like me, there are things you did where you can't help but wonder 'what on EARTH was I thinking?!'  I'm willing to bet money that this is what goes through Peter Andre's mind when/if he looks back at how he chased Jordan when they were in the 'I'm a (d-list)Celebrity' jungle a few years ago.
I can't believe they were married for four years - a stay of the same duration at one of Her Majesty's free 'hotels' would have been less of an ordeal - and whilst Pete's managed to escape the same can't be said for the Price offspring.
I don't care how much money she has, I'm not interested in how much she says she loves her kids (and I don't doubt that she does), no one in their right mind would agree that the people, influences and goodness knows what else these babies are being exposed to, and witnessing, on a regular basis (and at only two, four and eight years old, that's what they are) is appropriate or responsible!
Those helpful 'insiders' have been happy to spill the beans again and reveal that Pete is very concerned about his kids and is now looking to have them with him on a permanent basis...
"Pete's naturally worried about the association that Katie has with them – he doesn't want people like that round his children. Pete has been in a legal battle with Katie for months over agreed contact with his children, now he wants them to live permanently with him."
And Pete's view? "Just like any other parent, what I care about is whether [they] are a good influence on my children. I would fight to the death for my kids."
Good for him I say and I can't help but think that living with Pete full-time rather than Katie will only be a good thing for the kids too.