Celebaby: Adele Goes Baby Shopping In Beverly Hils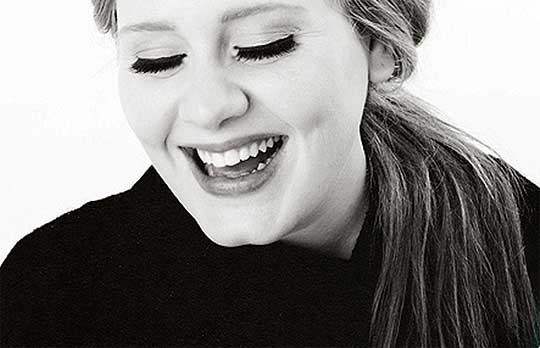 I've been pondering on something - I totally get why celebs want (and should be allowed to expect) privacy for themselves and their children, BUT does the very act of being fiercely protective actually make things worse?
Adele hasn't said a WORD about motherhood since her son was born on 19 October - and even then that's the date we think he was born on.  There's been no confirmation of his birthday or his name - he's still just 'Adele's baby' or 'Adele's son'.  Wouldn't it be mildly amusing if it turned out she'd actually had a little girl!
Adele and the baby's father flew off to Beverly Hills on Thursday and were spotted buying baby things - some clothes and a Treetop Friends baby gym, among other bits and pieces - and she looked seriously hacked off.
Although not quite as much as she did when she arrived in LA, with baby strapped to her front in a baby carrier and most of him covered up with a muslin cloth (I can spot those from a thousand paces!) - WOW, she looked properly angry and stressed.
I can't help but wonder, though, whether it would make celeb' life easier NOT to hide quite as much.  Take Orlando Bloom, Miranda Kerr and the gorgeous Flynn, for example - they are photographed LOTS and they've never hidden Flynn away from the cameras.
They rarely look harassed and perhaps that's because once the 'togs have got their shots, they go away and leave them alone (I've just had some SERIOUS deja vu - I swear I've written these exact words before!!) and now that Adele has made a big fuss about keeping everything about her baby a secret, there's going to be a lot of money up for grabs for those who get the first info' and the first pictures of the baby!
What do you think?  Does guarding your privacy, as a celeb', just make things worse?  Isn't it just like waving a red rag to paparazzi bulls? And what would you do?  Smile and wave, or growl, scowl and hide away?  <------- ooooh so many questions for a Saturday morning!