Celebaby: Is She Or Isn't She?
Ooooh the rumourmongers are at it again!  This time it's Mariah Carey in the spotlight...well where else is she going to be?
Double-trouble for Mariah?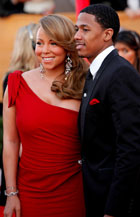 Can you believe that Mariah Carey is 41?  She's another celeb' who doesn't seem to age and to my knowledge she's not indulged in any cosmetic surgery malarky...let me know if you know different.
Infamous for being one of the biggest divas on the planet and having an enormous 4 octave vocal range the pop superstar is keeping remarkably schtum about her pregnancy status and rumours abound that if she IS preggars, there are not one but TWO little Mariahs on the way.
A couple of years ago, she married Nick Cannon (29) and he's been dropping hints like mad lately; whether they are or aren't expecting I'm sure he's having more than a little bit of fun adding fuel to the rumour-fire (I think I would to)...
"I'm pretty sure that when my wife is ready to make any announcement it won't be to the media, to the public, first. She'll tell her family, she'll tell her friends, and then, you know, when she's ready to share with the rest of the world, who is her extended family and friends, then she'll let everybody know."
There are bits and pieces and snippets and hints all OVER the internet as well....here are a just a couple:
"The Enquirer is reporting that Mariah Carey and Nick Cannon are expecting twins!
Mariah supposedly used fertility treatments and visited the California Reproductive Center on Mothers' Day smiling the whole time. "Mariah is gushing that she's going to have twins," says a source and she's rumored to have already turned two bedrooms into adjoining nurseries in her El Lay pad with Nick!" from perezhilton.com
In response to Mariah's abrupt pull-out of starring in Tyler Perry's new movie (adaptation of Ntozake Shange's 1975 play For Colored Girls Who Have Considered Suicide When the Rainbow Is Enuf) a rep said, "She is not doing the movie because her doctor advised her not to. More than that I cannot comment further." OOOOOH!
There's tons more but they're all saying the same thing and for now it looks like we're all just going to have to play the waiting game...