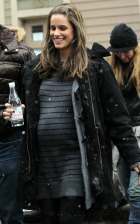 Pregnant American actress Amanda Peet was pictured at the Sundance Film Festival looking all glow-y and blooming. One thing's for sure, she's bound to be getting her baby immunised when the time comes.
The star of 2012 and How I Met Your Mother is spokeswoman for a charity that advocates for childhood immunisations.  Recently she sparked controversy by saying she felt that parents who don't vaccinate their children are parasites. She apologised for the comment but stood by her views on the importance of immunisations.
Amanda and her screenwriter husband David Benioff already have a daughter, Frances Pen, and their second child is said to be due in March.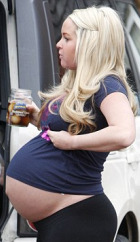 In the slightly less glam world of British ex-soapstars, former Brookside actress Jennifer Ellison sparked her own controversy by getting papped in the street yesterday, clutching an open jar of pickled onions and wearing a t-shirt emblazoned with the words 'Does my bump look big in this?' Um, the answer is a very definite Y-E-S, Jennifer.
Should baby bumps be covered up? This seems to be a raging debate of its own, with online newspaper readers getting all hot under the collar about the fact that her naked bump is on display. Does it matter? Should expectant mums keep under wraps or is it legit, in the last days of pregnancy, to let it all hang loose?