Celebaby: Hello, It's The Queen Here, Can I Speak To Kate Please?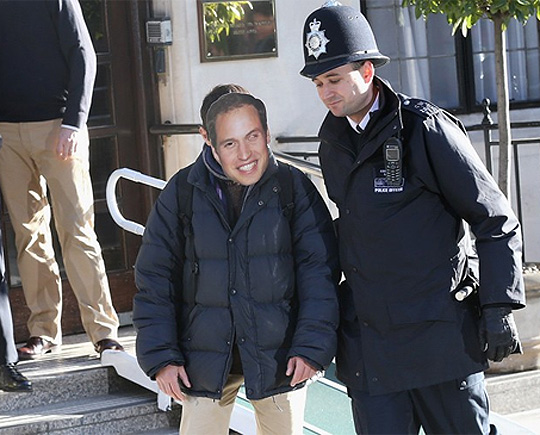 Did you hear the one about the Australian radio prank call made to the King Edward VII hospital, by two DJs pretending to be the Queen and Prince Charles?
It sounds like the start of a bad joke, and it is.  Two DJs called the King Edward VII hospital yesterday, pretended to be the Queen and Prince Charles - complete with very dodgy accents and someone barking in the background to add some Corgi authenticity.  They were put through to one of the nurses looking after Kate and given an update on her progress!!
St James' Palace is said to be absolutely LIVID and the Queen's former Press Secretary, Dickie Arbiter, has had this to say on the matter:
This is a shocking breach of security. The Royal Family have been clients of the King Edward VII Hospital for many, many years and it simply beggars belief that a member of the public could call up and obtain details of the Duchess's medical condition in this way.

Where on earth were the checks and balances? The hospital will be livid at what has happened and I am sure the palace will be demanding answers. There will be fireworks over this, for sure!
And rightly so, in my opinion: what amazes me, more than anyone getting away with something like this, is why and who thought it would be funny in the first place; idiots.
A spokesperson from the Aussie radio station has issued and apology: "The radio segment was done with the best intentions and we wish Kate and her family all the best."
With the best intentions?  Perhaps they could explain exactly what they could possibly have been.  Did they want to speak to Kate herself, reveal they weren't the Queen and that she was actually live on Aussie radio?!  Do they really think exposing a gaping flaw in security is going to help Kate, or anyone, feel any better?  IDIOTS!
If the prank was supposed to endear the radio station, or the DJs to anyone, Australian or otherwise, it's backfired badly; people rushed to their Twitter accounts to express their disgust and dismay, with someone even going as far to say it made them feel ashamed to be Australian.
You can't help but wonder what will be next - someone wearing a Prince William mask being allowed to pop in to visit?!